"Sometimes there are conflicts rise-up in the family
but it helps us to make a full realization on how to
forgive and love one another"
On your birthday, It's not just being happy or being
successful in life but a LOVE that is always unconditional.
Wishing you this day that no matter what happens,
we will always be your family that will love you forever.
June 15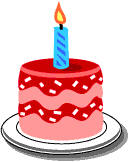 Happy Birthday...from small to big things you've done to us, I want to thank you for all. Hope what ever wishes you have now will come true.
Thanks for being a daughter to Lolo and Lola
Thanks for being a sister to Mama, Papa Dan, Papa Boy and Papa Bong.
Thanks for being a Mama bing us..Manoy, Bongbong and to myself.
Thanks for being a friend
Thanks for being YOU...
Ito regalo namin sau ni adele para sa diet mo "NEMOSHI" hehe